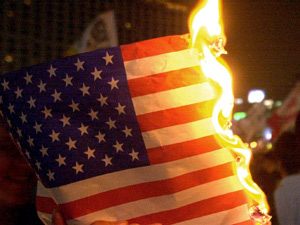 KRT Wire | 06/02/2006 | Republicans plan controversial votes on gay marriage, flag burning
:
WASHINGTON - When President Bush beat John Kerry in 2004, Republicans said a ballot initiative in Ohio to ban gay marriage sealed the election, drawing legions of conservatives to the polls.

It seems ridiculous, but it's true: there are two wars going badly for the United States, thousands of people are dying homeless at home, and so forth--but the great initiatives the Senate has for us are antigay sentiment and the bizarre worry that burning the flags in protest will somehow hurt the military's strength and morale. Sheesh.